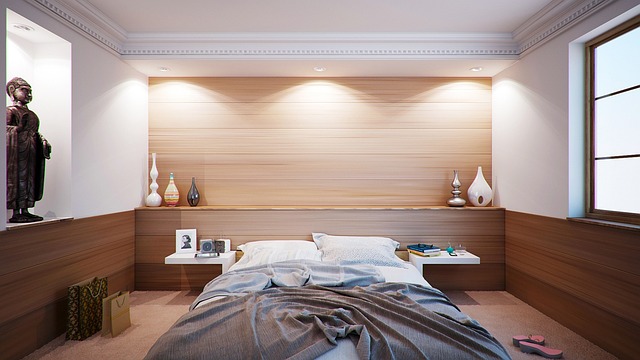 Every part in your house has its function. Even the most sociable people need a place to be alone. Your bedroom should be a sanctuary of peace, a space where you can cuddle up with your favourite book, and watch your favourite movie or TV series.
Spending time alone is healthy – it boosts productivity and self-esteem, sparks creativity, you can explore your interests, and many more. It's hard to achieve, specifically if you have to look after your family. Therefore, take advantage of your solitude by upgrading your bedroom. Here are some bedroom essentials you may include on your next shopping spree.
Curtains
While you want your bedroom to get natural light, you may want to have some privacy, too. You can make it possible by installing curtains. Curtains give you the most private space in your home. However, shopping for curtains can be quite overwhelming, most especially for first time homeowners out there. And the variety of drapery design makes it even more difficult. For a livelier approach, choose curtains that draw in colours from your pillows and other décors. Don't forget to consider the fit and material, too.
Comfortable Mattress
Replacing your mattress can be tiring. You have to visit brick-and-mortar stores to shop for a new mattress. Nevertheless, doing it today isn't safe because of the Covid-19 pandemic. If you have a pre-existing medical condition, you have to stay at home at all costs. If you want to buy a new mattress,do it right at the comforts of your own home. Shop for a Mattress in the box with only a few clicks. All you need is a laptop or PC and stable internet connection and you're good to go.
Statement Mirror
A statement mirror is an excellent addition to any bedroom. It sets up your bedroom as well as it helps to add a touch of beauty and make it feel more open and lighter. For choosing a mirror for your bedroom, pick a style, consider the shape and size, and the spot on the wall.
Adequate Lighting
All the rooms in the house benefit from having adequate, layered lighting, but it's more important in bedroom. See to it that there's a lot of lighting source that you can use. Get bedside table and floor lamp that can create a laminated effect to your bedroom space.
Layered Rugs
Any bedroom without a rug can feel cold and unattractive. Be sure to choose layered rugs that can add colour, texture, and warmth to your space, specifically when you're stepping out of your bed barefoot on a cold, wintry day.
Artwork
Hang a piece of artwork from your last local or international trip. It can be a perfect focal point in your bedroom. It can be your favourite family portrait, too. If you love DIY stuff, you can create your own artwork, such as chalkboard paint. It can work as a headboard and message board as well.
Apart from this list, make sure to invest in indoor plants. Having indoor plants in your bedroom can come in handy in giving you're a peaceful sleep.